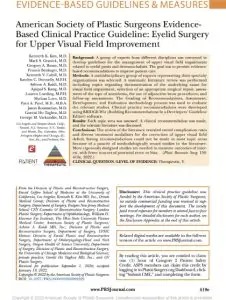 American Society of Plastic Surgeons Evidence- Based Clinical Practice Guideline: Eyelid Surgery for Upper Visual Field Improvement
Received for publication September 1, 2020; accepted January 19, 2022.
Background: A group of experts from different disciplines was convened to develop guidelines for the management of upper visual field impairments related to eyelid ptosis and dermatochalasis. The goal was to provide evidence- based recommendations to improve patient care.