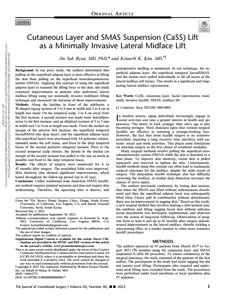 Cutaneous Layer and SMAS Suspension (CaSS) Lift as a Minimally Invasive Lateral Midface Lift
Received July 2, 2023. Accepted for publication September 30, 2023.
Background: In our prior study, the authors determined that pulling on the superficial adipose layer is more effective in lifting the skin than pulling on the superficial musculoaponeurotic system (SMAS). Applying this concept of using the superficial adipose layer to transmit the lifting force to the skin, this study examined improvements in patients who underwent lateral midface lifting using our minimally invasive multilayer lifting technique and measured the duration of those improvements.