Rapid Recovery Tummy Tuck
Conveniently located to serve the areas of Los Angeles and Beverly Hills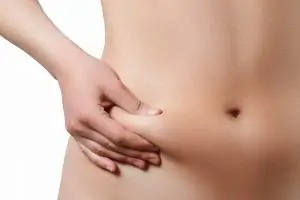 Does your stomach have excess skin that bulges or sags? Are diet and exercise not enough? If you are struggling to achieve a smooth, flat stomach, you may be an ideal candidate for a Tummy Tuck.
Once the abdominal skin or muscles are stretched, they do not usually return to their original position on their own. Tummy Tuck, or abdominoplasty, may be necessary to correct loose skin, excess tissue, and weakened abdominals and restore a flat, tight stomach.
At Dream Medical Group in Los Angeles, CA, Dr. Kenneth Kim performs an advanced Tummy Tuck technique that delivers great results and minimizes required recovery time. Using "Awake Anesthesia," this technique keeps patients safe, comfortable, and pain-free.
There are fewer risks and your initial recovery may be as short as forty-eight hours following Awake Tummy Tuck. A rapid recovery Tummy Tuck with awake anesthesia has many benefits, including the fact that it does not cause post-procedure nausea, unlike general anesthesia.
If you would like to flatten your stomach, but want to avoid the risks and side effects of general anesthesia, call to schedule a 
private consultation
 for Tummy Tuck with Awake Anesthesia today.
What is a Tummy Tuck with Awake Anesthesia?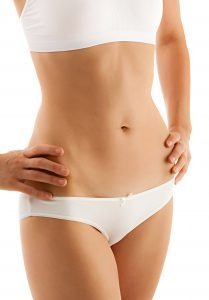 A Tummy Tuck is a surgical procedure designed to correct a bulging, loose, or sagging skin that distorts your abdominal appearance. The steps of a tummy tuck depend on the goals and physical needs of the patient. Tummy Tuck most frequently consists of tumescent liposuction to remove unwanted fat and sculpt the tissue on the abdomen and/or flanks. During a Tummy Tuck, Dr. Kenneth Kim will also tighten or repair stretched or torn abdominal muscles. The skin on the abdominals will be laid in a flat, tight contour. For some patients, the belly button may need to be repositioned into a more natural position once the skin is tightened.
If the excess stomach tissue and abdominal strain only occur in the lower portion of the stomach, below the belly button,
these patients can achieve a flat, tight abdomen with a
mini Tummy Tuck.
A tummy tuck requires only a single incision to perform. The incision is made low on the abdomen, in a place that will be easily concealed by clothing. The size of the incision depends on the extent of the procedure.
Before & After Surgery Photos
Female in her 30s underwent a mommy makeover which included breast augmentation and tummy tuck surgeries. Note the after photos were taken 3 months after surgery. The breast augmentation elevated the breasts creating a perkier, fuller, and more youthful shape. The tummy tuck (abdominoplasty) reshaped the abdominal area creating a toned and flat stomach.
What is Awake Anesthesia?
Awake Anesthesia is a form of local anesthesia that allows patients to undergo body contouring surgery safely and comfortably while the patient is conscious, but sedated. This anesthesia technique avoids the risks associated with general anesthesia. During general anesthesia, patients are completely unconscious. Patients must be monitored to make sure their heart and lungs are functioning normally. They must wear a mask and have a tube in their mouths to help their breathing. When patients are coming off general anesthesia, they usually feel groggy for a long period of time.
It is not uncommon to experience nausea for several days following general anesthesia.
Awake Anesthesia consists of local anesthesia and IV sedation. At the beginning of Tummy Tuck with Awake Anesthesia, tumescent fluid is injected into the treatment area. The tumescent fluid is a solution of saline, epinephrine, and lidocaine. Lidocaine is an anesthetic that will numb the abdominal area for 12 to 18 hours. The epinephrine, or adrenaline, will minimize any bleeding in the treatment site, as well as promote gradual absorption of the lidocaine into the bloodstream. The tumescent fluid will also cause stubborn fat pockets in the abdomen to swell, making it easier to dislodge and gently remove from the body.
During Tummy Tuck with Awake Anesthesia, patients rest comfortably in a "slight sleep" while under IV sedation and are still able to respond to questions and talk to Dr. Kim. It is possible for the patient to move and stand as necessary.
Patients do not feel nausea after undergoing Awake Anesthesia. Recovery after awake anesthesia is frequently only two days, versus the weeks of recovery that can occur following general anesthesia.
Why Choose Tummy Tuck with Awake Anesthesia?
Dr. Kenneth Kim and his patients prefer Tummy Tuck with Awake Anesthesia because it:
Is safer than general anesthesia. There is less strain on the patient's heart and lungs.
Shortens recovery after the procedure.
Does not create post-procedure nausea.
Reduces bleeding during and after the procedure.
Keeps patients completely comfortable during their Tummy Tuck.
IV Sedation during Awake Anesthesia has the added benefit of causing the side effect of memory loss. Patients will be able to engage with Dr. Kim as needed during their Tummy Tuck, but they will not be able to recall the details of their procedure.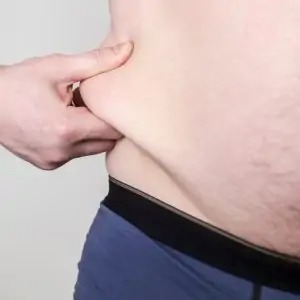 Major weight loss and pregnancy are two common contributors to a loose, stretched abdominal appearance. If you have lost a large amount of weight or have had children, you are likely a good candidate for a tummy tuck. If you are a man or a woman who has a bulging, sagging, stomach "pooch," you can restore a tight abdominal appearance with a tummy tuck.
Candidates who smoke will be asked to discontinue smoking for at least two weeks before and two weeks after their Tummy Tuck procedure. This is due to the fact that smoking can interfere with post-procedure healing times.
Candidates for Awake Tummy Tuck should be in overall good health, at a stable weight, and free of any pre-existing conditions that could interfere with their body's ability to heal after surgery.
Candidates should be people who have optimistic but realistic expectations of the outcomes achievable with any cosmetic procedure.
Looking for an affordable, safe way to address a sagging or unhealthy abdominal contour? Tummy tuck with Awake Anesthesia will achieve beautiful results and enable you to enjoy your new abdominal contour more quickly than with general anesthesia.
Dr. Kenneth Kim will be happy to answer any questions that you have about Tummy Tuck and Awake Anesthesia during your private consultation at Dream Medical Group.
It is important to us that you feel 
comfortable and well-informed 
before making any decisions regarding your appearance. Once he has examined your abdomen and has a clear sense of your goals for your abdominal contour, he will work with you to create a customized treatment plan.
Men and women who wish they had a flatter, tighter abdomen can turn their dreams into a reality with Awake Tummy Tuck! To learn more about how Dr. Kim will transform your body and provide an ideal, comfortable recovery, call to schedule your private consultation at Dream Medical Group today.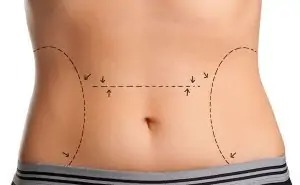 When patients arrive for their tummy tuck with awake anesthesia, the abdomen will be sterilized and marked for surgery. Tumescent fluid is then injected into the treatment site. The tumescent fluid will take thirty minutes to completely numb the abdominal area.
Once the patient is comfortably numb and sedated with IV Sedation, Dr. Kim may perform tumescent liposuction. He will break down and remove stubborn fat in the stomach and flanks using a slim cannula. An incision will be made low in the abdomen. Using this incision, Dr. Kim will access the abdominal muscles. The muscles will be tightened or repaired to restore taut, healthy support to the abdominal walls again. The skin will be laid over the abdomen in a tight, attractive contour. Excess skin will be removed. The incision will be sealed with stitches.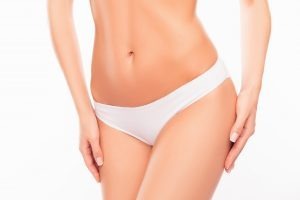 Minimal downtime is required after a Tummy Tuck with Awake Anesthesia.
Tummy Tuck with Awake Anesthesia results in a much shorter recovery period. Most patients are able to return to work within forty-eight hours of their Awake Tummy Tuck. Dr. Kim will discuss your anticipated recovery timeline with you, as well as approved methods of controlling any post-procedure discomfort. Avoid taking non-steroidal anti-inflammatory medications during your recovery.
All patients will receive personalized recovery instructions, including how to care for their compression garment and stitches.
A compression garment may need to be worn for the first six weeks following the procedure to hold the results achieved with the Tummy Tuck in place. Patients will return to Dream Medical Group within a week of their Tummy Tuck to have their stitches removed.
It will be necessary to ask a friend or family member to drive you home after Tummy Tuck with Awake Anesthesia. We also recommend that this person stays with you the first night of your recovery to help you transition into a comfortable recovery.
Dr. Kim achieves slim, natural-looking results with Tummy Tuck. Thanks to Awake Anesthesia, patients can receive their procedure safely and enjoy their results much sooner than they would if they had received general anesthesia.
Some of the most common questions our patients ask us about Tummy Tuck with Awake Anesthesia are:
CAN YOU BE AWAKE DURING ANESTHESIA?
With Awake Anesthesia, patients are "awake" but sedated with IV sedation. The local anesthetic in the tumescent fluid will prevent the patient from feeling their Tummy Tuck but still allow the patient to move and respond when spoken to. The IV sedation also tends to cause amnesia as a side effect. Patients will not remember their procedure experience.
CAN A MINI TUMMY TUCK BE DONE UNDER LOCAL ANESTHESIA?
A Mini Tummy Tuck can be performed under local anesthetic, with the help of IV sedation. The mini tummy tuck will tighten the skin and remove excess tissue from below the belly button. Awake anesthesia will allow the patient to participate in their procedure and enjoy their results much more quickly, thanks to their shorter procedure.
HOW PAINFUL IS LIPOSUCTION UNDER LOCAL ANESTHESIA?
Liposuction under local anesthesia is not painful! We take care to allow adequate time for the lidocaine to take effect before beginning the Tummy Tuck surgery. In the rare case that a patient still has sensation, the patient will be sedated but still capable of expressing the desire for more anesthesia. We make sure to adjust the treatment plan to accommodate patients with higher tolerance to anesthesia, like redheads.
HOW MUCH DOES TUMMY TUCK WITH AWAKE ANESTHESIA COST?
The price of a tummy tuck with awake anesthesia will reflect the unique details of the patient's treatment plan. Pricing will vary based on the size of the treatment area, the extent of work required, and whether the patient prefers awake or general anesthesia. Awake anesthesia is a much more cost-effective option than general anesthesia.