Conveniently located to serve the areas of Los Angeles and Beverly Hills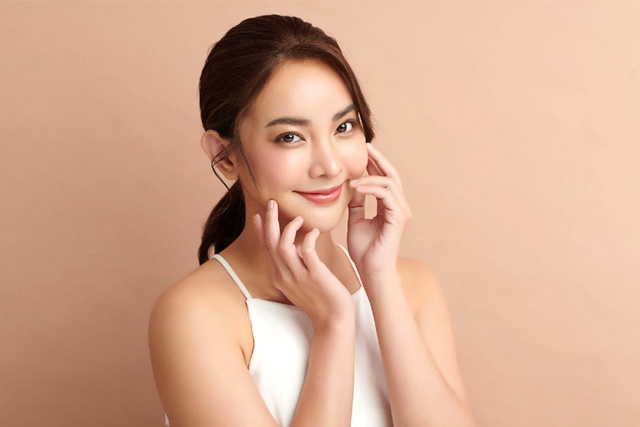 "Aegyo sal" is the Korean term used to describe the aesthetically pleasing fullness under the lower eyes. It's a look even K-pop stars and idols in South Korea seek, but the trend has also spread farther afield to countries like China, Taiwan, Singapore, and America. Translated into English, this term means something approaching "charming or cute tissue", and it's a feature that is in high demand in Korean cosmetic surgery. If you don't already have aegyo sal, you can achieve the same effect with dermal fillers!
Many women want to accentuate their under-eye area as it denotes youthful attractiveness, innocence and flirtation. Injected below the eyes, fillers can plump the lower eyelid and make it appear more raised. Fillers have been used for many years in facial contouring, so it's no wonder they're incredibly popular with cosmetic surgeons and patients alike.
Dr. Kenneth Kim is Los Angeles' premier Korean plastic surgery specialist. At the state-of-the-art Dream Medical Group facility in the heart of Los Angeles, he can carefully target the tissues under your eyes with biocompatible hyaluronic acid (HA) filler to create the aegyo sal look you desire. For a personal consultation to discuss aegyo sal fillers, please contact our office at (213) 700-4297, or fill out a simple inquiry form on our website.
The Korean Beauty Aesthetic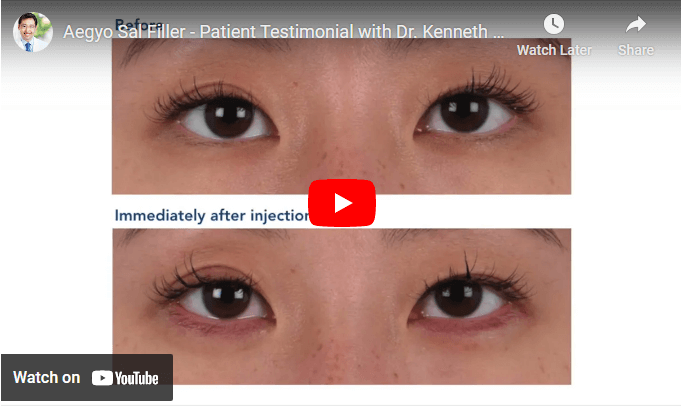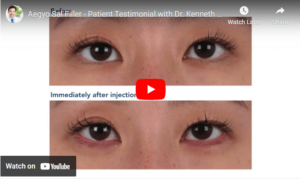 Korean beauty trends are on the leading edge of modern-day fashion. They influence aesthetics in Asia and beyond. In fact nowadays, Korean beauty products and regimens are used by Koreans and non-Koreans alike! Surveys conducted by scientists found that the ideal Korean facial beauty aesthetic was a combination of these factors:
Small Face
Wide Forehead
Smooth Cheekbones
Narrow Nose
Large Eyes
Small Chin
Thin upper lip
V-shaped Lower Face
Pale complexion
Clear skin(1)
In-office cosmetic procedures are incredibly popular, especially with younger Korean Americans who want to stand out from the crowd. Upper and lower eyelid surgery, or blepharoplasty, is common, as people with monolids seek wider, more striking eyes. Additionally, aegyo sal enhancement is also a highly desirable facial feature.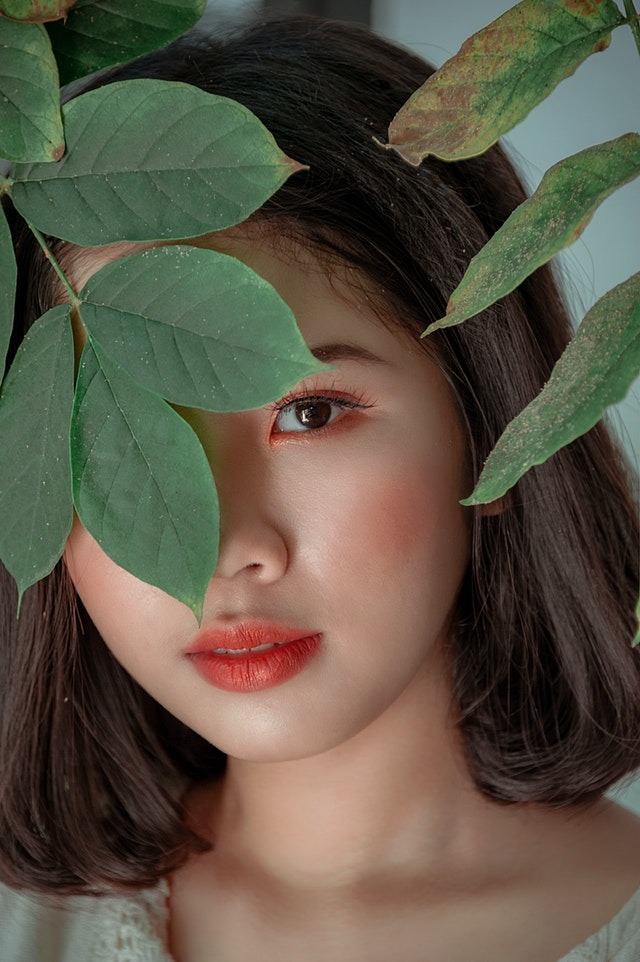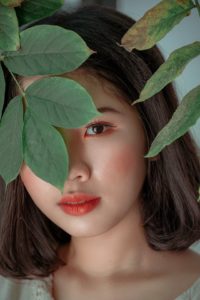 Sometimes known as "love bands" in English, aegyo sal should not be confused with conventional eye bags that can make us look tired or sick. Instead of disguising them like we would eye bags, these under eye accents are sought by many Korean men and women. The puffy part directly under the lower lash line is the focus. Made even more famous by idols such as BTS star Jungkook, and Momo from Twice, they're a symbol of youth and cuteness in Korean culture. They can become even more apparent when we smile, and brighten our facial features, which is why many people desire them.
An aegyo sal effect can be achieved through makeup, however these results may only last a day before they're washed off. With cosmetic filler injections, the effect is significantly prolonged, so patients can enjoy the lasting effects of their aegyo sal procedure.
Benefits of Aegyo Sal with Fillers
Why Are HA Fillers Good For Aegyo Sal?
Hyaluronic acid fillers are proven as a safe, effective way to improve facial aesthetics.(1) They're biocompatible, meaning the risk of allergic reactions is low. Additionally, getting under-eye fillers:
Creates long-lasting aegyo sal
Is a short, simple procedure
Is a minimally-invasive technique
Has a low chance of filler migration
Stimulates collagen production
Helps with skin hydration
Has a high patient satisfaction rates
With HA fillers, patients can get great results in as little as 30 minutes which will last for many months!
Dr. Kim meets with each patient at a personal consultation before every cosmetic procedure. It's a chance for you to talk to him about what you would like to achieve with a cosmetic procedure. If you want to achieve an aegyo sal look, he will examine the skin quality of your under-eye area, and explain to you how a filler procedure can enhance the area. Once you have completed the necessary paperwork, and if the treatment is suitable for your needs, we will schedule your procedure at Dream Medical Group.
Your Love Bands Procedure
PREPARING FOR DERMAL FILLERS
Avoid alcohol 24 hours before your procedure
Avoid certain medications (e.g. blood thinners)
Stop taking certain supplements (e.g. Vitamin E)
Start taking arnica before your procedure
Arrive with a clean face/no eye makeup
It is important to tell Dr. Kim the current medications you are taking and if you have any allergies before booking your filler appointment.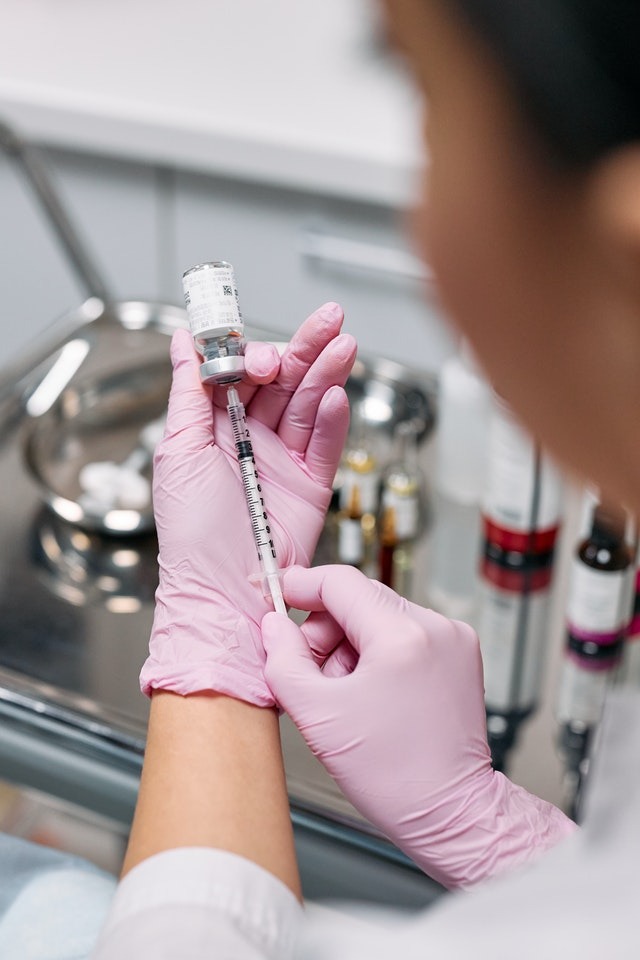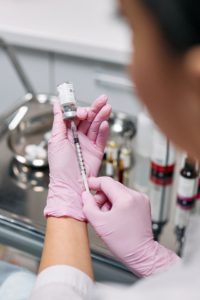 A filler procedure for aegyo sal is fast and simple! We can provide topical numbing cream 30 minutes beforehand for your comfort. We will ensure you are comfortable in the treatment room, then Dr. Kim will prepare the fillers for injection. Once everything is ready, he will then expertly inject filler to the under-eye area medially, centrally, and laterally to achieve the best appearance. After injection, he will use a cotton-tip applicator to ensure even filler distribution and enhance projection of the under-eye area.(2) 
Many patients experience very little pain, or no pain at all during a dermal filler treatment! Once Dr. Kim has worked on both eyes, he will smooth the filler into place, then you will be free to leave our care.
After receiving your injections, you can expect some mild bruising and swelling in the area. This will lessen significantly in the first 48 hours after your treatment, and is usually gone completely after a few days. It may take a week or more for your fillers to settle, so please do not be alarmed if the shape doesn't look as expected at first! Once your fillers have been incorporated successfully into your lower eyelid area, you'll be able to enjoy your striking, youthful-looking aegyo sal and show them off with pride!
Corresponding & Complementary Procedures
Discover more about Dr. Kim's specialized Korean cosmetic surgery procedures. Consider one or more to accompany your aegyo sal treatment and enhance the natural beauty of your face!
Drooping eyelids are a common occurrence for many Asian people. When excess skin interferes with the eye area, it can cause vision problems, and make us look sleepy. In some cases, it can even cause discomfort and irritation. Dr. Kim provides cosmetic surgical procedures to correct eyelid ptosis and restore a youthful, energized look for your eyes with an upper eyelid blepharoplasty.
A lateral canthoplasty is a surgical option to achieve more prominent, wider eyes. It elongates the outer aspect of the eyes while improving the delicate muscular support of the surrounding area. Using tailored techniques designed for Asian eyelids, Dr. Kim can masterfully create a brighter, livelier eye aesthetic to refresh a tired-looking face.
To complement any eye procedure, Dr. Kim provides many different types of cosmetic nose refining procedures. These include the tip plasty, which can adjust a low-sitting, large-tipped nose in favor of a slimmer, more delicate look. A redefined, daintier nose can change the facial silhouette, improving confidence.
If you're looking to add fullness to your lips, fillers can also be used for upper or lower lip definition, or both! Dr. Kim can inject targeted fillers into the area to enhance volume and augment shape. Like cosmetic aegyo sal enhancement, the great benefits of a lip augmentation procedure are that it's both fast and simple!
Cost of Aegyo Sal Fillers in Los Angeles
The cost of your aegyo sal with fillers will be determined at your personal consultation. In the meantime, please see Dr. Kim's special pages on Asian plastic surgery and how to prepare for treatment. At Dream Medical Group, we're here to help you and answer any question you may have. With this in mind, feel free to call us at (213) 700-4297 to book an individual consultation with Dr. Kim. You can also contact us by filling out this simple online form.
How can I get aegyo sal for my eyes?
Makeup to accent the under-eye area can be effective, but it's a very temporary measure. If you're looking to achieve Korean aegyo sal "love bands", you can do so via fat transfer, however, this can be costly. Many people choose dermal fillers as it's both long-lasting and more cost-effective.
Who should perform an aegyo sal treatment?
Only a surgeon trained and experienced in Asian facial anatomy should perform aegyo sal cosmetic procedures. If you are seeking an aegyo sal procedure, be sure to thoroughly research the background of the surgeon you choose to ensure they have extensive experience with Asian facial features.
How long do under-eye dermal fillers last?
The length of time facial fillers last depends on the patient. In most cases, the effects of facial dermal fillers such as those used for aegyo sal creation can last between six months and a year.